Neuro Radiology Diagnostics in Ludhiana, Punjab
Neuro Radiology Diagnostics in Ludhiana, Punjab, Neuroradiology comes under the category of radiology which deals with:
Performing minimally invasive procedures for spinal cord & brain diseases or disorders
The diagnosis of various diseases, disorders, and injuries is done linked to the peripheral nervous system & central nervous system
Neuroradiologists are the ones who have got proper training to perform the same. They provide their expertise to neurosurgeons and neurologists for better management of the particular condition. Neuroradiologists have the experience to better understand the results obtained through the:
X-rays
MRI (Magnetic Resonance Imaging)
Computed Tomography (CT Scan)
Be it for the brain, spine, spinal cord, face, neck, and [peripheral nerves the neuroradiologists can analyze the results of everything.
Doctor J Edmund Moses
Sr. Consultant Radiologist Neurociti Hospital Ludhiana
MEDICAL EDUCATION
M.B.B.S .: Kilpauk Medical College Chennai
M.D. RADIODIAGNOSIS : (PGIMER Chandigarh)
D.M NEURORADIOLOGY: AIIMS (New Delhi)
WORK EXPERIENCE
Junior resident Radiodiagnosis PGIMER chandigarh 2002-2004
Senior resident Radiodiagnosis PGIMER chandigarh 2002
Senior resident Neuroradiology AIIMS 2006-2008
Consultant radiologist Saral Diagnostics New Delhi 2009-2010
Senior Consultant Radiologist Arora Neuro Center Ludhiana 2010-2013
Presently Consultant Radiologist at Neurociti Hospital
AREA OF INTEREST
Advanced CT imaging
MRI
Neuroimaging
Neurovascular imaging
PUBLICATIONS
Many Original Articles & Case Reports in National and International Journals.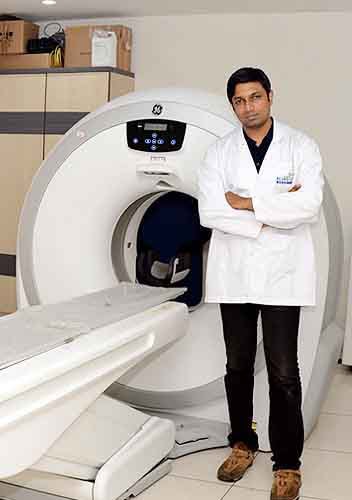 Which types of diagnostic and therapeutic methods are used by neuroradiologists?
Diagnostic MRI methods, along with:

MRI
MR spectroscopy (MRS)
Functional MRI (fMRI)
MR angiography (MRA)
Perfusion and diffusion techniques
Contrast-enhanced techniques

CT methods

CT angiography (CTA)
Perfusion techniques
Contrast-enhanced techniques

Catheter angiography
Coil placement
Stent placement
Embolization
What is the main purpose of neuroradiology?
As I have mentioned above, brain & spinal cord injuries/conditions/diseases are diagnosed through neuroradiology. Some of them are mentioned below:
Brain tumors: Can diagnose cancerous & Benign
Diagnose blood vessel disorder in the spinal cord & brain like arteriovenous malformations (AVM), aneurysms, and dural arteriovenous fistulae
Brain injury like traumatic brain injury & anoxic injury
Functional disorders are diagnosed like dizziness, balance disorder, headache, neuralgia, and dizziness.
Movement disorders and stroke disorders are diagnosed
At Neurociti we have the best team of neuroradiologists who have years of expertise to provide the best results to better approach the patient situation.
When do I need neuroradiology?
If you are diagnosed with a nervous system neurological condition and disease then it is needed. In the later stages of your treatment plan the neurologist & neurosurgeon will be at as the neuroradiology results help to point at the:
Injury status
Disease
Condition
Depending on the skills and understanding of the neuroradiologist you will be given certain options of minimally invasive treatment. The neuroradiologist can help you if you have a certain type of spinal cord and brain disorder.
Best team of neuroradiologists to give you precise information
The neuroradiology department at Neurociti Hospital can help you get the:
Excellent care for your condition
Experienced team giving precise information
Clinic practice improving the results
If you would like to get our neuroradiology services, then feel free to get in touch with our team to get all the information.